Dave and I celebrated our 20th Anniversary on the 31st of December. It seemed like a milestone for two people on their second marriage, so we had a bit of a celebration. My bridal bouquet was made up of Star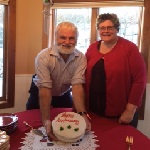 Gazer Lilies, so I ordered my centerpiece to include these lilies and supporting flowers. It was beautiful and I thought it would be a great subject for my next painting.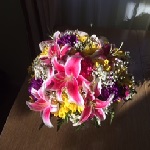 It is difficult to find lighting that would be dramatic enough to capture all the colors, but one late afternoon, the sun was coming in from the west window and streamed over my work table giving a brief moment of light that was so dramatic it looked perfect. So I started what I think I will be calling "Celebration Bouquet".
I cropped the picture so I could make a painting the would be vertical on the card. It also reduced the number of flowers I had to paint, because this is looking pretty complicated. I used a masking fluid to keep some of the areas white for later, so they look kind of blue like in this picture.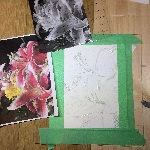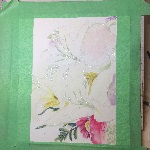 I am trying a new method of adding color, slowly building with light washes so progress is a bit slower, but I hope to have a more intense color when I am done, it just takes a little more patience.
Today, Jan 24, 2018, I included some darker background on the bottom so I could get a better idea of where my edges were going to be and worked on the dark purple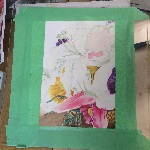 carnation. I am having difficultly getting definition of the petals in the carnation, but they are kind of in the background so they will probably not be the center of attention.
I will continue to add to this blog until I finish the piece. I hope to have this in a card format by February, maybe late Feb. I think it will be great card for any kind of happy occasion.
Jan 31, 2018 update. As you can see, even with a weeks worth of painting, I usually work on the pictures at least four days a week for about two hours. You have to let the paper dry in between additions of color, but you can work in different sections as it dries. That is why some areas look finished and some are just starting. I made the picture a bit larger so you can see it better.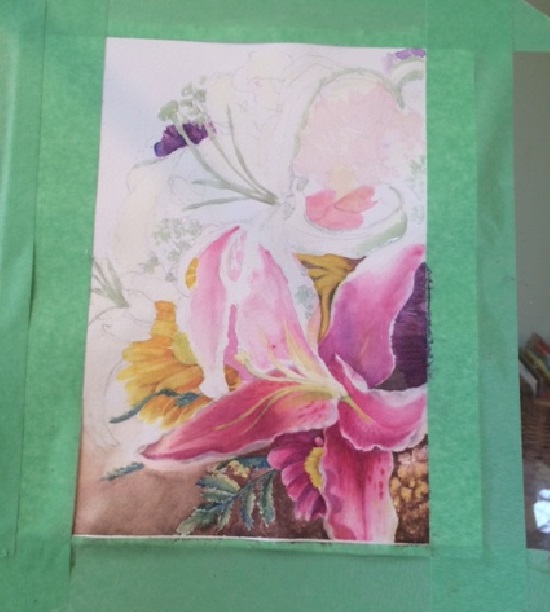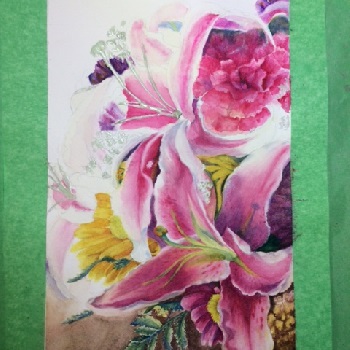 06 Feb 2018 update
I have been working on the carnation in the upper right side, I have never painted a carnation. I wasn't sure how to approach it at first and did a little research. It needs more work but I think I have the foundation in place. It is tough at this point because I have invested a lot of time, so there is a fear of messing it up with some weird accidental stroke of the brush. There are ways to repair watercolor, but they are never as good as fresh paint, so maybe you would pray that I can keep going without too many mistakes. Thanks for staying tuned in.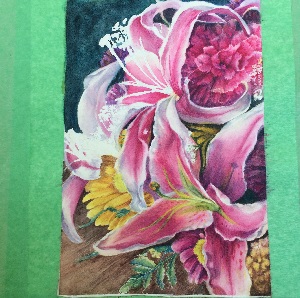 14 Feb 2018 update
This is the last update I will be posting. I am almost done, but I don't want to give away the finished picture.