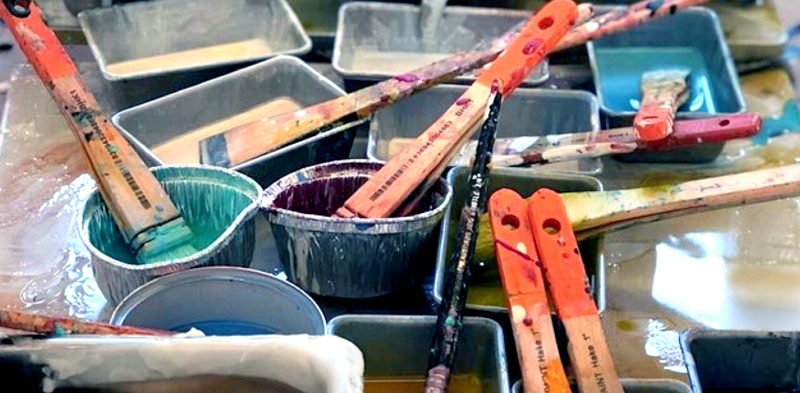 Starting Point

I am working on Creative Workbench Encaustic Wax Pans. This new Creative Workbench features an encaustic artist painting bench. If you are not familiar with encaustic paintings, they are paintings made with hot colored blend of beeswax. The wax is painted or dripped onto the surface and built up in layers. It is a fascinating medium provided intriguing results. The artist workbench is from Shary Bartlett, and she graciously is allowing me to use her reference photo.
Underpainting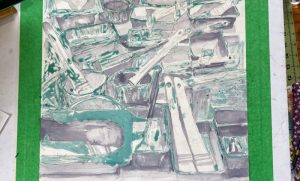 In order to preserve the white or light highlights on the pans, I put mastic fluid everywhere that should remain white. That shows up on the image as a teal blue tint. Once that was dried, I used a neutral tint paint to define the areas of shadow. This underpainting will help the color appear darker and create contrast.
Glazing
With the underpainting in place, it was time to add color. I started by adding thin layers of color, this would still be considered light values. Later I will move into mid-tone values, but you will have to check later to see how this project progress. I will add new images of the progress over time.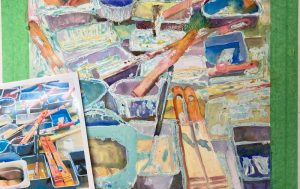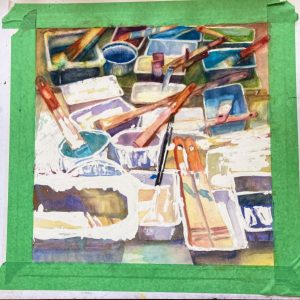 I am about midway with this project. I have defined some of the upper background and the brushes. I was having a hard time with pan boundaries so I removed the mastic fluid and now I can see the white areas I want to save.
White areas are very important with watercolor, you have to preserve them at the beginning because you can't add white back later. There are a few tricks to removing paint, but it is always better to preserve white first.
I plan on defining this creative workbench encaustic wax pans on the rest of the painting and giving the brushes more definition, then we shall see about the table they are setting on.
I will probably post one more in-process, but the final painting is a secret (unless you are a subscriber) until the Creative Workbench show in October, 2022. That seems like a long time from now, but when you only paint one a month, that is a very short time to create a whole show.
Follow the Progress
Come back and visit periodically to see how this painting progresses. If you would like to have a sneak peak of the my other Creative Workbenches, Subscribe to my email list and you will receive regular updates.