Reference Photo Simplification
I create my watercolor paintings in a studio from reference photos taken by myself or supplied by other people. My method for creating the "Creative Workbenches" was to take random photos in a workspace and look through them later to find a section or grouping that would capture the personality of the creative person. The nice part of being an artist is that I can take out parts and put in pieces in different places if it works better for a finished painting. That is good thing, because I am not skilled at photography, and I don't have the patience to set up a scene with the best lighting and maneuvering things around to get the perfect shot. When I started taking photos for my artwork, I increased my appreciation of artists 10-fold.
Can You Find the Painting in This Photo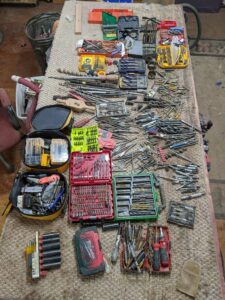 Here is an example of a reference photo provided by my brother. I am not sure if he was cleaning up or just showing off, but this was a table covered by a collection of all the screwdrivers, drill bits and drivers he had found in his shop. I suppose this would not jump out at everyone and say, WOW, wouldn't that make a great painting, but thought I should be able to do something with all of these parts and pieces.
Using a photo editor, I was able to isolate various area of the photo and zoom it to get details. After many different combinations I decided that the small red box in the bottom right corner was a pretty good representation of all the items on the table.
Would you have picked some other areas? Maybe I could have done a couple of different paintings?
Final Painting from Reference Photo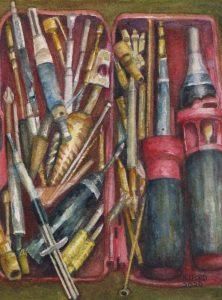 The original painting was a 5 x 7-inch watercolor that was purchased by a second cousin. He reminded him of my dad, who was also a carpenter. My dad was kind of a messy desk guy, and his workbench would have been cluttered with a variety of tools. I told my cousin; I wouldn't be at all surprised if some of the bits and drivers found their way into my brother's workbench.
I call my workbenches Object Portraits because the objects tell the story of the owner. In my solo show Oct 15, 2022 (see event page), I will show some of the reference photos and you will be able to see what I started with and how I used reference photo simplification to create a better composition.
If this painting reminds you of someone you love, have it digitized so it can be reproduced, just let me know using the contact page so I can give you options.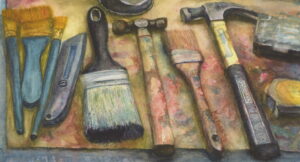 Finished painting to the reference photo above.