A couple of months ago my son jokingly sent me a message with a photo of his work space. It was just full of stuff, some in-process work, tools, along with some adult beverages. I laughed when I saw the photo, knowing that my son is extremely inventive, but tends to have too many projects at varying stages of completion. When I saw the photo, I thought the workbench was a visual interpretation of the many synapses firing in his brain. Too many to control requiring the need of some fluid refreshments to slow down the impulses. It was a crazy photo, but after a while I thought wow, wouldn't that make a great painting.
This started me down the path of a new series I am calling Creative Workbenches. It will be an intimate look at a variety of work spaces from a diverse group of creative sources. I have enlisted the help of a jeweler who fixes watches and clock and a fly fisherman who ties his own flies. I hope to recruit additional artisans over time.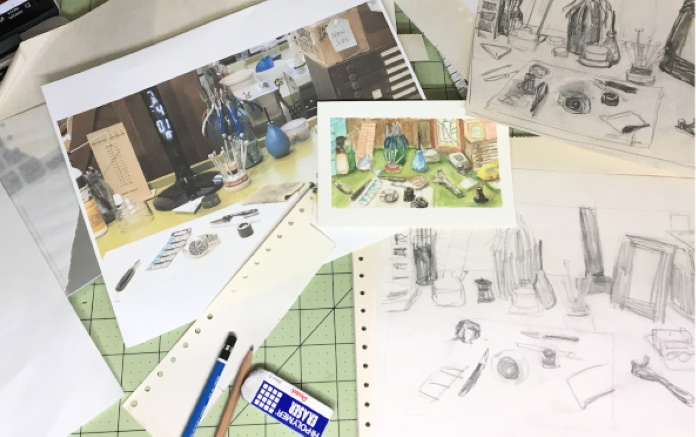 One thing I am learning about creative work spaces is how intimate this project is becoming. How a person lays out their work area says a great deal about their creative process. As a messy desk person myself, I need to be surrounded by the materials and ideas associated with the project I am working on, however, I don't like to mix too many different project at once, so I must put away anything not related to the current project. The photo above is an example of how I start out to determine the layout of a new painting.
We are all creative people to some extent, every job has their own creative element and each requires tools for the trade. I am looking for additional Creative Workbenches: What does yours look like? Would you like to share and possibly have it made into a painting. Please leave a comment below if you would like to participate. If you subscribe to my website, you will be informed on the progress of my creative workbenches.
The original of Creative Workbench #1; Wired, I will be giving to my son, who provided me with his photo and the idea, but I have scanned it and am able to make reproductions if you are interested please send me a message.
Keep creating.