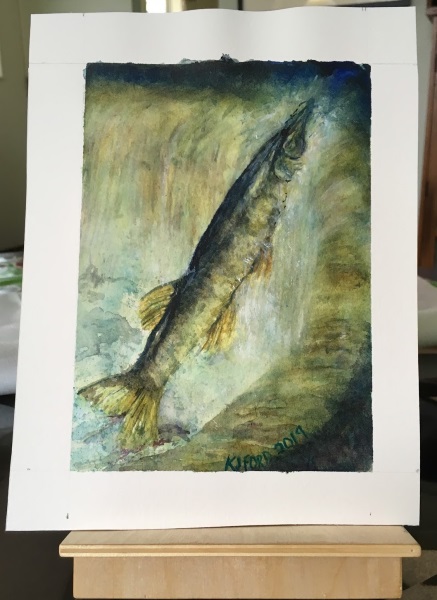 Tuesday morning, April 9th, I saw an Instagram video of Wingra dam jumping muskies, muskellunge, starting to jump the Wingra Lake dam in Madison, WI. I am 60+ years old and have lived in the Madison area all my life and never knew about this interesting phenomenon until last year when I saw a You Tube video, Wingra Jumping Muskies. I was pretty excited when I learned that the Muskies where starting their annual jumping and wanted to go see them.
I told my husband that he should go check it out with his son when they went into Madison to work that morning, but Dave thought he could wait. I said, not waiting, today was the day, it was was 60 degrees F and the next day it was suppose to be below freezing and snowing. I explained to him that my father was the type of guy that knew when there was something special going on and work could wait. I told him that when I was a kid, about every other year the DNR would "shock" the Mt. Vernon Creek to check on the health of the trout and throw out the suckers. When dad heard they were doing that, we would go down to the creek and follow the shocking crew, walking for a couple of miles and checking out the fish population. It was just something we had to do and it was more important than work. I suppose some people would disagree with that kind of attitude, but that was what I loved about my dad.
So after my little lecture, Dave decided he would check out the jumping muskies. They watched for a little while and saw the muskellunge pooling under the dam and about six fish jumped. That was cool for them, but I wanted to see it too. After they returned from work, Dave and I went back so I could see this for myself. After all, these are only muskie in the world known to jump. This is truly extraordinary. I was told they are not really spawning and they are hybrids and a bit crazier than regular muskies, but I am no fish biologist.
When I arrived, the muskies were not as active but I got to see about three jump and one sneaky guy. There was a big one that was swimming right at the surface and he was ready. He went under the first section of the waterfall and just poked his head up, then a little higher and then about a foot up into the water before he came back down. I thought that was so funny, it just made me laugh.
I was inspired by this little outing and decided I needed to capture the fun with a painting. I had not intended it to be a great painting, I just needed to play with the fish. It is a 5 x 7 inch painting I used to practice flowing water and shiny fish backs. It isn't my normal overly worked detailed painting, but I think it captures the moment better that way.
If you get into Madison, WI in spring, check to see if the lake temperature is about 54 degrees, and go to the Lake Wingra dam. It will definitely bring a smile to your face. If you do go, send a comment back or even a picture so we can spread the word.