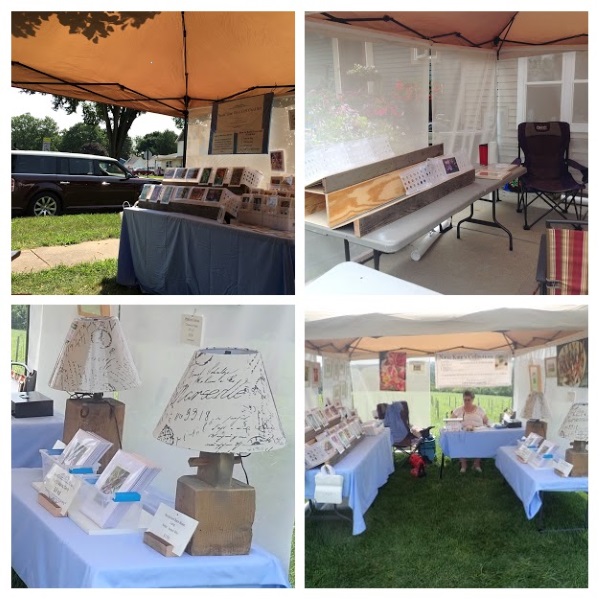 It has been more than a year since I set myself up for business.  I started with a website with the allusion that; "If I post it, they will come" via the magic on the inter-web.  That may seem pretty naive and in fact, it was because I had a lot to learn about the internet and especially about how to sell creative works.
I am naturally a curious person so I did some research and found The Abundant Artist Association, which I joined.  They have a lot of marketing courses on "How to sell your Art Online" which I studied, but only implemented a small portion of their suggestions.  I found out that it is hard to sell your art online and that you have to talk to people.  In November of 2017, a guest conference call on art shows with Owen Garratt opened my eyes to the possibilities of art shows, but I wasn't intending to sit outside in the heat and humidity to sell cards.
I retired in January of 2018 and decided to give this art business a good try, so I started making more paintings and cards.  Well now I have inventory, but I needed customers.  In May, I received an email from my local art association, Mt. Horeb Area Arts Association, that announced the Black Earth, WI Chamber wanted artists for a new art show in August.  I discussed this with my husband and we decided to enter.
After I applied for a booth I remembered the program on art shows and the discounted training materials and purchased the videos from Marketing Tools For Artists .  I found out I had made my first mistake by signing up for a new, unproven art show, but I was going to make the best of it and prepare a booth that would dazzle the visitors.
Dave and I worked out a lot of details with the art booth, a lot of thinking, doing and arguing, but in I think we put together a pretty nice booth for first-time art showers.  The art show in Black Earth wasn't very good because it was poorly advertised and not very many visitors.  It was a great opportunity to try out our booth and we learned a lot and simplified our signs so the next weekend when we set up for the Bailey's Run Vineyard show we were more prepared.
Bailey's Run was another new show (remember never to go with new shows) and we didn't sell too much, but I am satisfied that if I were to go to a larger show, I could sell cards.  What I learned from my experience is you need to go to shows that have at least 1000 people to find a few that will like your stuff.  You need a proven show and you have to find the right type of person for your art.  I also learned that I don't like being outside in the heat and humidity and will try to find shows that are inside, but that is a luxury.  I liked talking to people, and it was fun, but it is not a social event so tell friends to meet you after the show and not try to socialize while you are marketing.
I will continue to look for shows and I will continue to simplify my set up.  It is one of the quickest ways to get new names for the website subscribing by having a show giveaway and hopefully, someday, I will be able to get people to buy cards online too.