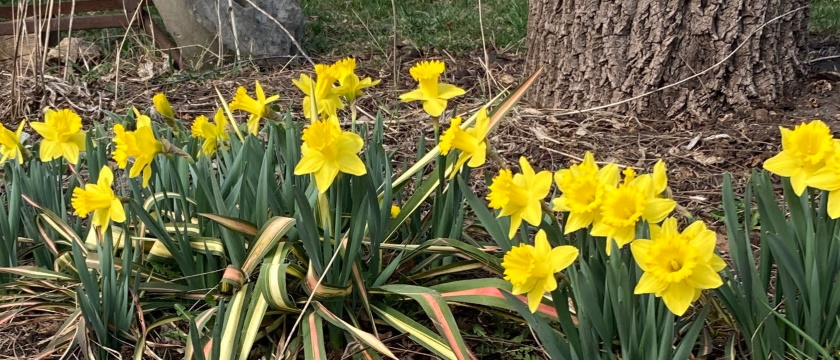 Retaining Wall
It was more than ten years ago when I visited the greenhouse looking for plants for a newly created stone retaining wall. The retaining wall was created to make room for a garage addition. There was a lot of debate about what was being retained in that wall, it came with a two-foot diameter, mature, black walnut tree. There were pros and cons, but the pros won out (later on we may have decided to go with the cons) and the search for compatible plants was on.
If you aren't aware, Black Walnut trees, put out a toxin called juglone that surrounds the tree preventing invading trees from taking hold. There are a lot of plants that cannot survive in this toxic environment, so I wanted to make sure I didn't waste my money on plants that would die. The greenhouse manager suggested several plants including three variegated yuccas and we took them all home for planting.
Yucca survival
I like yucca plants, overtime they will mature and send up a tall flower spike that produces a ton of white flowers, very dramatic. I looked forward to seeing that someday. I watched the little yuccas over several years, it was obvious that the black walnut tree was not willing to let that little plant thrive. The yucca was a survivor but it took all its energy to neutralize the toxin preventing it growing and blossoming.
I suppose anthropomorphizing with a yucca plant will seem a little silly, but haven't we all tried living under a Black Walnut tree. My first husband spewed a toxin that was physically and emotionally toxic. Every time I tried to grow and blossom, it would take all my energy just to survive.
New Ground
I suppose I could have removed the yuccas from the tree, but relocation has its own growth deterrents. I know after I left my husband, I was thrown into a new grove of trees that sapped all my energy in a fight against poverty, loneliness, depression, binge drinking, and single parenting.
It was fifteen years after my divorce when I met Dave, my angel, and I finally found new roots in a new home surrounded by love that helped me detoxify. Later I even found salvation and cleansing that freed my soul to stop striving and start thriving.
Are you living under a Black Walnut Tree? How have you survived? Did you have help along the way? Have you suppressed a talent, skill, creative desire that just hasn't been able to blossom and grow?
I am not a counselor, I am an artist, but I believe art has healing power that can be experienced through all the senses; sight, touch, taste, sound and smell. Art, visual, sculpture, music, etc., contains the experiences and imagination of people that have found their way of living under a Black Walnut Tree. Allow yourself to experience art and guide you to new ground.