Going Fishing
My father introduced me to fishing when I was a toddler most likely as respectable excuse to get out of the house for some quiet time. I have learned over the years there are people that like to "go fishing" and then there are "Fishermen". My dad and his dad before him were more the "I am going fishing" type. I think my mom and grandma had a lot to do with the timing of the fishing trips (enough said about that), but I was often rewarded by these outings. Dad would take me down the gravel pit and we would casually sit on the bank "fishing" and pull in a bullhead or two and eventually make our way back home for supper. We would eat, dad would recline and nap and all was well with the world.
Later in life I married a "Fisherman". Fishing was a command performance, every moment spent on the water or bank had to be meaningful and it was a job. Two weeks after we were married, I moved with him to Alaska, a fisherman's paradise. We spent the summer chasing salmon, King, Red, and Silver. Long days were spent filling our freezer and canning meat. It was hard work, the mosquitos drove me to histerics, the camping was debilitating, but we were catching fish. In fact, fishing for silver salmon was my first introduction to fly fishing. You see salmon don't really eat when they are spawning, but when they see eggs rolling in the water to lightly mouth them and move them making it difficult to tell when a fish was on the line. The sensitivity of the fly rod helped distinguish bait rolling on the rocks or a salmon picking it up. We were very successful.
My first husband had some bad traits that helped me decide to leave him and fishing might have been one of those traits. It was fifteen years later when I met another man (Dave, my guardian angel) that took me back to my early years to the "going fishing" mentality. The fishing wasn't as important as just getting outside and leaving daily work behind and having a couple of beers in the boat. He did have some fly-fishing experience, but it wasn't a passion. It wasn't an obsession and so he did not practice very often. He used it mostly to keep himself busy while hanging out (he doesn't sit still well).
Introduction to Fly Fishing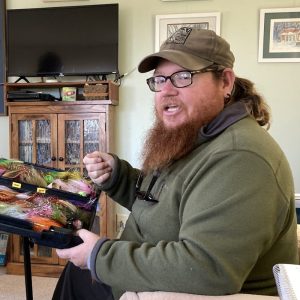 Three years ago, I suggested we explore this fly-fishing idea a little more and maybe it would be something I would like to do too? I suggested paying a guide to take us out because we don't have a boat and it is hard to get to the really nice fish from the shore. I searched the internet and found P J Smith and his guide service.
PJ set up a day long fishing trip on the Wisconsin River (Wisco as he referred to it) in Sauk City. That is only a 20-minute drive for us and it was perfect for a first outing. The idea of day long fishing trip in June in a boat was a bit intimidating at first. There are some personal logistics for men and women that require attention which I felt might be a challenge, but PJ is so patient and kind that all of concerns were managed.
I had never fly fished before. Dave tried to teach me how to cast the line, but it is not intuitive. PJ had all the gear, experience with novices and was very helpful. In fact, I had caught at least one small mouth bass (smally as he referred to it) and lost a couple more. When he said the whole day, he meant it. We were on the water at 9:00 am and off at 6:00 pm. I was tired, exhausted, hungry and ready to go home, but what a wonderful day we had going fishing. PJ is a Fisherman, but not a zealot and he never pushed us beyond our level of tolerance.
Musky Fly-Tying Obsession
At some point in the day, Dave became a bit bored, and PJ suggested he try casting a musky fly. Well, that was my moment of obsession. PJ opened his magic case of musky flies, with brightly colored feathers, flashing fibers and soft buck tail strands that captured my attention like a case of jewels. If they didn't have those great big, sharp hooks on them, they would make perfect dancing dolls and you would just rub your hands down over the soft fluff and feathers.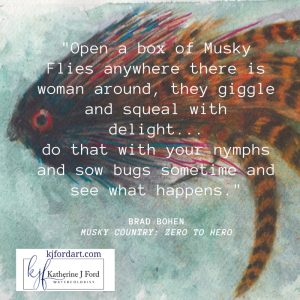 I had just started my "Creative Workbenches" and I wondered if a fly-tying bench would be a fun project. PJ agreed, but I had to wait until he was less busy to get him to photograph his workbench. Eventually I was able to acquire a few great photos to use for my "Musky Fly Tying" workbench. I am glad I waited because I think it is probably one of my favorite paintings.
I will be showing off the Musky Fly Tying Creative Workbench painting this year as part of my "Creative Workbenches" solo show in October 2022, but there will be earlier exhibits where you can see the creative workbench and watercolor musky flies as well. Check my events page for updates.