Is There a Difference
In my first watercolor class the instructor placed before us a cloth lined table with an orchid in a vase, a few other objects and told us to paint. I have to admit, that was a little overwhelming. I hadn't even learned how to use watercolor at that point and wasn't sure on how to approach this set of items in a drawing. This was my first exposure to still life painting.
Still Life Painting
The instructor had laid before us a still life composition to use to study shapes and colors. The still life had no meaning to me or anyone, so there was no emotional connection to this grouping. Grouping objects together and taking them out of context allowed us as artists to introduce our own interpretation to create a mood or emotion. As the artist I provide the interpretation and the objects speak for themselves without reflecting on the owner. The Beholder further interprets the artwork through their own experience and becomes a co-creator in the process in the finished piece.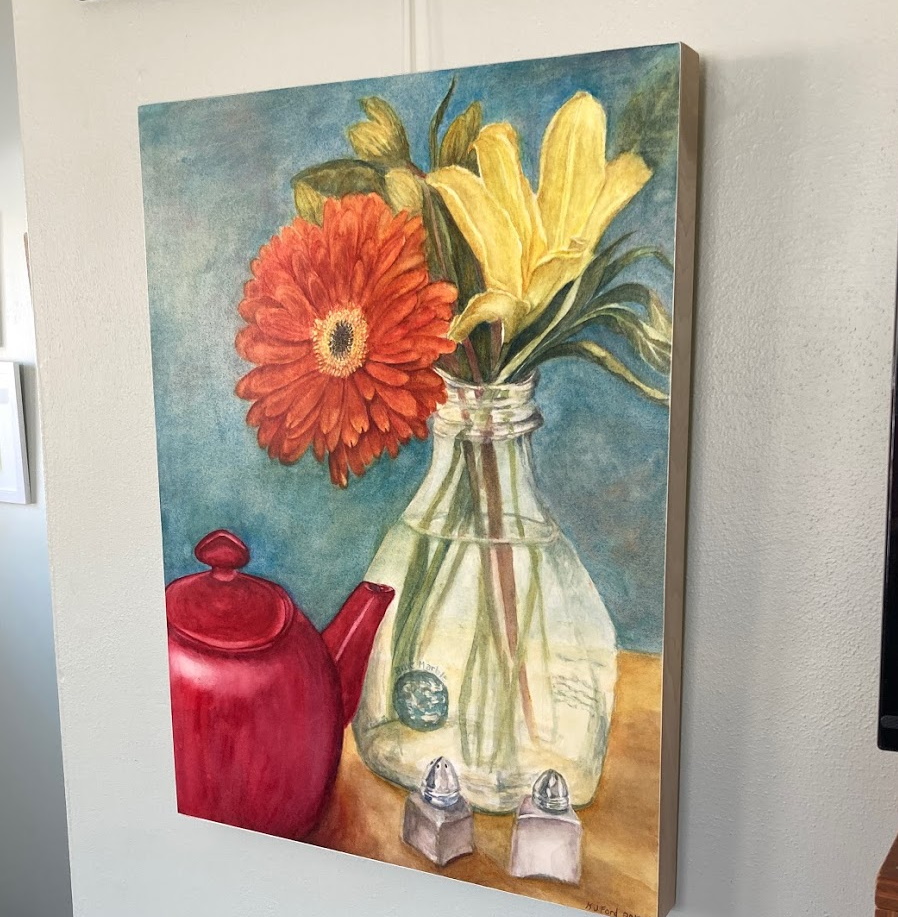 One of my examples of a still life is the "Daisy and Teapot" painting. I used a few items that I was fond of, but I did not assemble this grouping as an intimate reflection on my interests, it was just a group of items I had on hand that looked good together. There was no personal story to be found in this painting and so I consider it a still life.
Object Portrait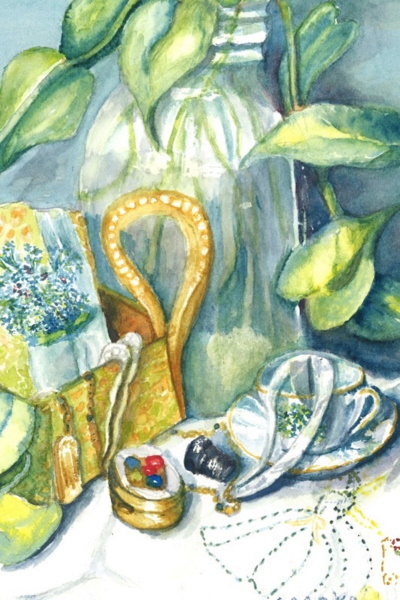 I was asked to create a painting for a wedding gift to the granddaughter of my Great Aunt. She had passed and I had accumulated several of her small items. I decided to assemble these items into a grouping to produce a portrait of her using objects she had stored away in a trinket box.
In my opinion this is what I consider an object portrait. I believe that by looking at the items my aunt saved away, I created a watercolor painting showcasing her personality. Several vintage hair fasteners, an embroidered towel, bone china cup, and a thimble highlighted the care she took with her appearance, hand sewing and desire for pretty objects. She was a person who was always pristine but not fussy, she had nice things and took very good care of everything she owned and had a lovely quiet personality.
I suppose for someone that did not know her, this would probably be considered a still life. But the very word still life just doesn't feel right when there is a person involved. As I continue adding to my "Creative Workbench" series, painting the a person's tools and work areas is much more personal and you get to know people by their surroundings. I am just not satisfied by the concept of still life when applied to these workbench paintings. I feel these are portraits of the people through their objects.
Conclusion
Still Life Painting or Object Portrait, Is there a difference? In my opinion, yes, When I assemble items or photograph spaces that belong to an individual and it tells a story, I categorize that an Object Portrait. If I assemble random items to create an interesting painting, I would categorize that as a Stiff Life.
I prefer Object Portraits and my "Creative Workbench" series will tell many stories and reveal secrets about those creative people. Please join my website to see each new workbench as it is created. Sign up on the Home page so I can keep you informed as new works are added.