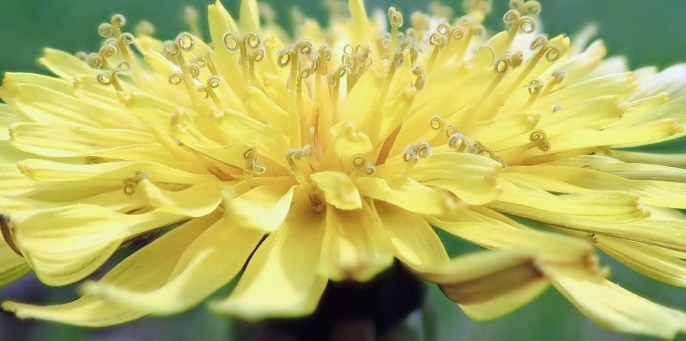 I am working on a series of paintings I want to call "Undesirable Beauties". So what are they? They are plants most people would refer to as weeds, but when you look close at them they are really quite beautiful. I have a couple of these already completed; Creeping Charley and Queen Anne's Lace. The most obvious of all these beauties would be the dandelion. I waited until they bloomed this spring to get my own macro photos and decided I like this horizontal image the best.
I consulted with my mentor on approaching this painting and he recommended that I work in more of a "designy" mode. I am not sure that is a word, but my interpretation was to loosen up a bit, not get involved in the details and get a bit more abstract. Basically he is tell me to get out of the box, start scratching at the boundaries of my artistic box and break free from control.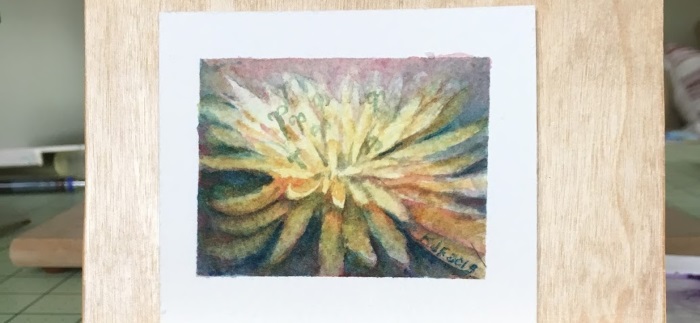 I really wasn't really sure how to start this project, so I approached it by doing a tiny painting (ACEO 2.5 x 3.5 inch). I sent it off to my mentor and published it online and low and behold people liked it. Encouraged I moved on to the big paper (11 x 14 inch) and started to lay some paint on the paper. You see below how I embraced the color red, so it has a dramatic start.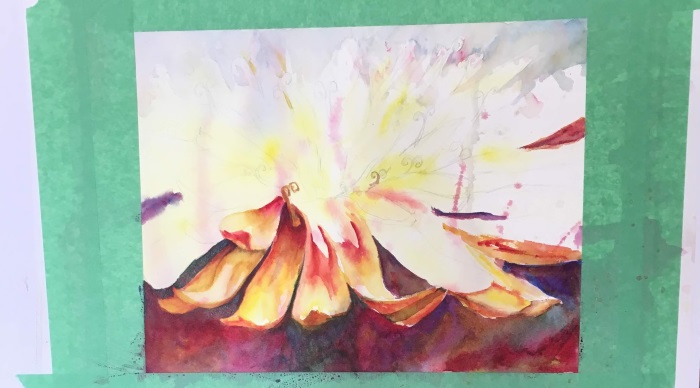 I was beginning to like this bold color and added some more to definition to the flower and then I stopped. I could tell that I was starting to add detail, trying to control the outcome and not letting the water and pigment flow to where it wanted to go.
The best watercolors let the magic of the water and pigment work for you. Over control can make for a muddy mess. As I reflect on what is going on with the "out of the box" thinking I think maybe I am getting a little nudge from the Holy Spirit that He is in charge. I have been given a gift, but He controls the outcome. I need to hand this over with open hands and trust that all will work together to His glory. Well, I am sure that is all good in theory, but my nature will surely get in the way again as it always does. I just hope that somewhere in the process a compromise will be reached.
Stay tuned as I provide more work in process photos.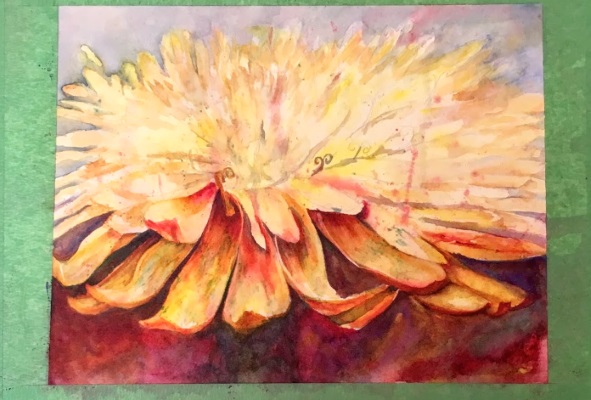 I was hoping that I would be able to scratch myself out of the box of of artistic styles, but alas, I could not allow the paint to be totally free. I need to see the detail in the petals to satisfy my sense of organization. I had to know where the petals started from and where they finish and to see some subtlety. I feel I compromised and left some of the outlying petals undefined. In the end, I think I like it, but it is different for me and I would love to see comments on what you think
Below is the final picture. I am not sure if I will make it available on this website. I might just take it to shows and see if I can get a response from a general audience. If you are interested, please send me an email. I have title this painting "Dandelion Inferno" because of the red hot color below. Please provide comments to let me know if I should do more of this type of painting. Thank you