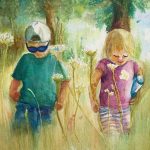 "We don't stop playing because we grow old; we grow old because we stop playing." George Bernard Shaw
What does Childlike Wonder Look Like
It was a beautiful cool Saturday and I was sitting near my art booth when two small boys (5 and 7) came running over to see myTiny Wonders original watercolors. I had one painting of a vintage red race car and the older boy just had to pick it up and look it over very carefully. The younger child quickly checked out all the other paintings and was squealing with delight. I could not have been more pleased. It was refreshing to see how my paintings brought out so much joy in these young people.
Where Did Our Wonder Go
A little later there was a young man, perhaps around 26 who also came over to the admire the Tiny Wonders. He looked at all the paintings quite intently and after awhile I said hello and made a comment on the weather. I explained all paintings were originals and he confessed his admiration for my work. You could see delight in his eyes but no squealing like the young boys. He was well mannered and controlled, probably did not want to overly express his interest for fear I would ask him to buy something. It became very clear to me that this young man's childlike wonder was still present but suppressed.
Wonder gets stolen from us at an early age. Squealing is not appropriate behavior when entering a art gallery or museum (except for children's museums). How fun would it be to go to the Louvre and roam the floors with youthful excitement seeing the work of the world's most creative geniuses and exclaiming with delight the whole time. Your heart would sore and your imagination would go wild. Can you image the looks from people around you and the scolding you would get. Instead of joining your expression of pure joy, you would be required to suppress you enthusiasm so the more sophisticated art lovers could peacefully admire the works. They would have read their guidebooks so they knew which works they should like and the appropriate reaction displayed. Your wonder would be suppressed or stolen away completely.
Can We Find Wonder Again
I have the dearest, sweetest, most naive husband ever. Each day he demonstrates what it is like to retain wonder. He does not allow my cynicism to squelch his childlike enthusiasm. When we first starting seeing each other, I took him on a vacation to a small island off the east coast of Puerto Rico, called Vieques. He was not a sophisticated traveler at that time. He had served in the army in Germany over 20 years earlier and that was the last time he had flown. On the flight from Chicago to San Juan, we had the opportunity to share one of the three seats with a young girl from San Juan. She spoke no English and Dave spoke no Spanish. As we started to fly over Puerto Rico you could see Old San Juan, beaches, a fort, and cargo ships. Both the little girl and Dave were glued to the window, exclaiming with excitement with each recognizable sight. She would take Dave's face in her two hands and point his face toward the window. Language and age were no longer a barrier, only wonder and joy.
Join the Search for Wonder
I am on a search for my childlike wonder. My search starts with finding the extraordinary in the ordinary. It started with flowers and taking macro photographs to look for unseen details. Flowers are an easy place to start because they are such amazing creations, you can't help but wonder how the little bugs catch the nectar and pollen and distribute it to the right place.
I take these photos and interpret them into watercolor paintings. I am not very quick at painting, so as I contemplate the details, I become mindful and that often creates moment of wonder on how this flower was created.
I know life is busy and time slips away, so I hope my watercolor paintings will help you discover a world you may not have found. I would love to have you share in my journey and you can do that by becoming an Extraordinarian. Click here for the path forward.