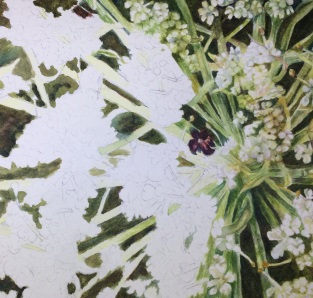 This month I demonstrated ACEO (Art Card Editions and Originals) painting at the local historical museum (Driftless Historium). The event was part of an exhibition by the MHAAA. I had laid out 2.5 x 3.5 inch cards taped to foam board, some with drawings printed on them and some blank. I also provided watercolor pens, liquid watercolor, and small pan watercolor so they had their choice of medium to try.
I explained the history of ACEOs and then I asked them if they would like to try their hand at painting, but before they started I explained that there is no white in watercolor. Technically there are a couple of white opaque paints that are available, but watercolor purists or transparent watercolor painters do not allow the white paint when judging watercolors. The only true way to have white show up in your paintings is leave the white of paper exposed. This means you can't just paint away and come back later and add the white, you have to plan ahead to protect the white spaces. I call this "Planning for Purity"
When Planning for Purity, there are a few ways to leave white exposed. One is to put a masking fluid on the white so you can just wash over the surface. This is a very safe method, but when you remove the gummy material it leaves a hard edge that must be blended back into your other pigments.
Another way is to wax the surface, but with that method you can't remove the wax so you better get it right the first time. The trickiest method is to paint around the white, being very careful not to get any pigment on the white space. If you do, you can try to lift the pigment off, but it will never be the true white anymore.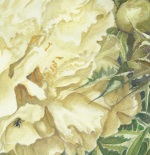 I have had a lot of trouble painting white things. This picture is a peony and I didn't leave that much white, it is more of an ivory because of trying to get shadows in the folds of the petals, I used a lot more yellow than intended. I like the results, but just not really white.
I keep trying to improve my use of white, for example, Silas, the Siberian Crane was a big challenge, since he is all white, except for a few black tail feathers.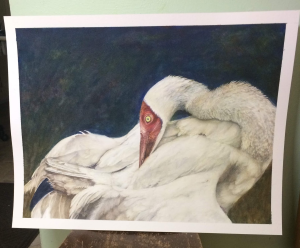 Planning for Purity in life can be even harder. We start out pretty good but even as small children it is tough to make good choices when we are bombarded with worldly knowledge. Our canvas gets darker and darker over time and eventually we need intervention to remove the dark pigment. We can seek help from others, but there is only one source capable of wiping the slate clean and that is our Savior, Christ Jesus. I am so thankful for His gift, now my heavenly father can look at me and my canvas is as white as snow.