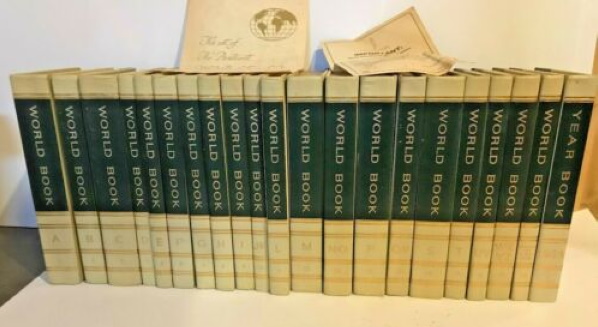 It was the summer of 1962 when I was sitting on the couch in our living room with my mother and brother and the World Book Encyclopedia salesman. He had brought along the most beautiful, cream-colored books. He was offering our family easy access to information that could only be found in libraries and schools right in our own home. The books felt luxurious, with the heavyweight glossy paper, gold-edged pages and colored photographs for special articles. It was going to make us scholars, improve our grades, help us with homework, and provide access to a world way outside of our Verona village limits. The cost of the set of books was probably equivalent to the cost of a computer today, with what seemed like the same access to information.
I loved those books. My brother and I would read them from a – z, just random information about everything and anything. We were thirsty for the information contained in those volumes. They supplemented our equally devoted reading of graphic magazines (comic books), which also served to enhance our literary knowledge.
The World Book Encyclopedia was our window on the world. The short sections of information were just enough to satisfy our curiosity without going into details that we could not understand. They were concise bits of information, easily swallowed and digested.
Fast forward to today. Information is everywhere online. When I go to Wikipedia to research a topic, I get lost in the information rabbit hole of links to links to links. I end up in a new subject without knowing where I started. If I want to go to a restaurant, I hunt for every review available to pre-determine my satisfaction with the food. If I purchase a product on Amazon, I must read the reviews, and their links and comparisons and in the end, I am unable to decide for fear I will not have done enough research.
I am suffering from information overwhelm. It may have started with my first set of encyclopedia, but it is now an ever-present danger that threatens my joy, reduces my creativity, and makes me questions my abilities. I go into analysis paralysis and become unable to determine what I should do next.
A good example would be weight loss. Do you know how many diets you can research online? Do you have any idea how many food choices, scales, tracking programs, or exercise programs you can research before deciding to eat less and move more?
What is interesting is this information overwhelm is a subject that has a great deal of discussion on the world wide web and just this morning I started down that rabbit hole of information until I just said, "stop". Essentially more is less in the world of information.
If you are suffering from information overwhelm what should you do:
*Turn off your computer.
*Get up out of your chair.
* Do something physical.
If you are suffering from information overwhelm, what do you do to overcome this debilitating condition? Please add your comments below. Thank you for helping others with this condition.