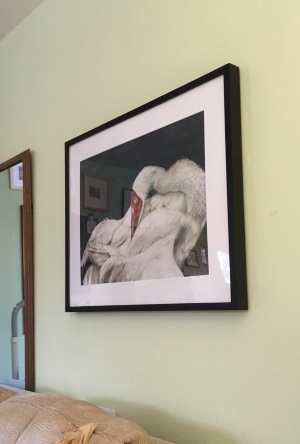 In November I was extended the opportunity to exhibit some of my artwork in a Reedsburg Bed and Breakfast. I didn't have enough available pieces to meet their entire needs, so I started coming up with ideas of what would be interesting for their guests. One of the attractions in this area is the International Crane Foundation in Baraboo, WI, so I thought it would be interesting to paint a crane.
I checked out their website and they had some wonderful photos, but there was one that really appealed to me and that was the Siberian Crane in the drop wing threat pose. I thought how appropriate to paint a threatened species in threat mode. I asked permission to use that image as a reference photo and they kindly agreed.
I was a little intimidated at first because I typically paint small pictures (less than 10 inches on the longest side) and this was going to be 18 x 24 inches, which is huge from my perspective. Facing the big, blank piece of watercolor paper started all kinds of negative thinking on my part, it took me several days to figure out how I was going to sketch out the drawing and make it look like the actual bird.
But first things first, you have to secure the paper to a backer board because the water from the brushes causes the paper to expand and if it isn't taped down, it will buckle and roll as it dries. I use a green tape as you can see in the photo. The green painters tape pulls off easily in the end, but is not that pretty to look at while I am painting.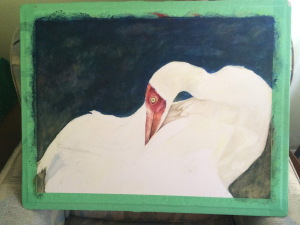 I think the most significant feature on the the crane is the beak and the eye. I set out to master that first because that was crucial. The beak was actually pretty easy for me because there is color and I can do color pretty well, but then I had to start on the white feathers. Painting white things in watercolor has never been easy for me. I blocked off the outline with masking fluid, but it leaves such a hard edge that I don't use it any more than needed. The think with watercolor isn't really a white paint you can use to touch up mistakes. You get white by leaving the watercolor free from paint, so you paint around the white spaces leaving the white exposed. I had a hard time trying to figure out how dark to make the shadows and I had to lift off color several times when I thought it was too dark.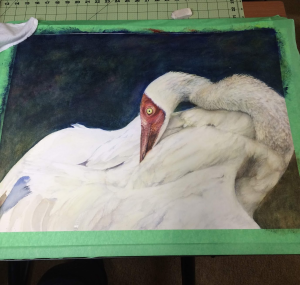 Another element that I had to conquer was the ruffled feathers on the neck. The crane in threat mode was all puffed up, I suppose so it looked tougher and bigger to other cranes. I am not sure how tough the crane looked, but after a while, if you look at that eye you begin to know he means business.
By this time I had spent many hours working on this painting. I was beginning to get pretty intimate with the crane and I decided it would be easier to relate to him by giving him a name. I gave him the name Silas.
Some of you will know Silas as Paul's companion in the Bible. I thought that name would be good because my Silas will also act as a missionary to bring awareness to the fact that Siberian Cranes are a critically endangered species. I hope that I can help Silas by giving 10% of the sales to the International Crane Foundation. I think he deserves all the help I can give him.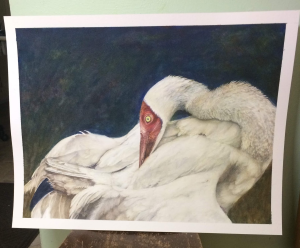 In the end, when the final brush stroke is applied, I sign the painting and it is time to remove the ugly green tape. Silas had been a stressful journey. I had to overcome more mental obstacles then technical but in the end, I think I captured Silas pretty well. It is hard to explain how much joy there is in removing the green tape, seeing that pure white edge. Slowly the tape is removed to prevent tearing and the final painting is revealed. It is the end of a project, time for celebration. This was a huge accomplishment for me and hope it will be a joy to it's new owner. If you would like to be the new owner, he is located in my shop.