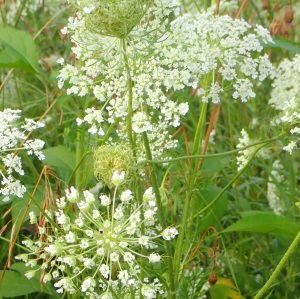 I have always liked Queen Anne's Lace and felt it would be fun capture it in a painting. It is August in Wisconsin and they are abundant in the fields so it was no problem getting a close up shot with my trusty little camera. As I processed the various photographs looking for just the right image to use as a reference photo, I decided on a close up that looks like an every expanding network.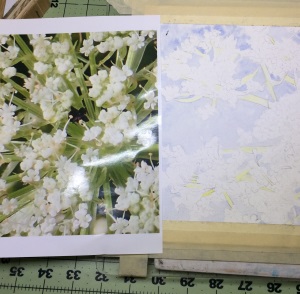 In the middle of the flower I found a dark spot that I thought was a bug or piece of debris so I did not include this spot in the transfer of the image to the watercolor paper. I didn't think much more about it until I started to research Queen Anne's Lace a little more, looking for other macro images of the flower. What I found out falls into the Extraordinary category in my opinion.
According to the information I reviewed that little dark spot in the center of the flower is a single sterile purple flower. Botanist's have not determined the reason for this anomaly. Is it there to attract pollinators or ward off bad bugs? Who knows, it is a mystery. I have been looking at Queen Anne's Lace for over 60 years and this is news to me.
I am inserting a link if you are interested in learning more about this little mystery: Queen Anne's Lace Close Up
As I continue on my painting, I will add pictures of the progress. Hopefully you will have had a chance to make you own close up examination and find that little purple flower. Send in a comment when you find the flower and let's see how many Extraordinarians we can get into action.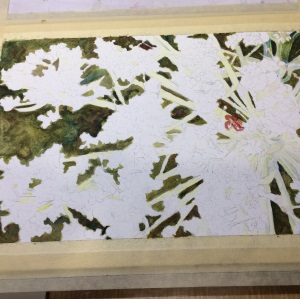 I have been away from my painting for a couple of weeks getting ready for my first art show (more on that in future blog). I added the purple center flower and started to detail the stem colors in the upper right side. This is going to take a long time to put in all the details so I may not add a section to this blog very frequently, but I will keep you in informed.
Funny thing though, as I work on this picture I can't seem to get the story of the Danish Queen pricking herself while making lace and leaving a drop of blood in the center of the flower. Instead of the Danish Queen, I think of Jesus and that a single drop of His blood was all that was needed to blanket my sins so they became white as snow. The power of the blood, that's what the song says because just one drop give eternal life.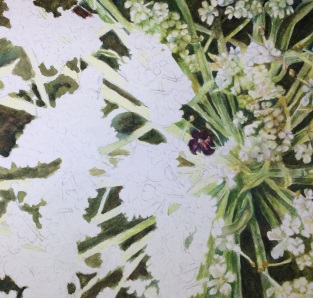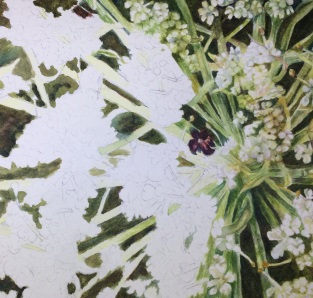 I have been away from this painting for a little while as I worked on another painting for a special customer, but I am back at it and wondering why I chose to do something with so much detail. Each tiny flower needs to have shading added and trying to follow the direction of the stems gets pretty confusing. I like where this is going, but I can only focus on it for about an hour or so at a time. I can't say how long it will take, probably at least another week if I work steady each day, but I think the end result will be pretty intriguing. Thanks for following along.
Oh, I have also created an Instagram account if anyone is interested you can find me at @nanakatesartcards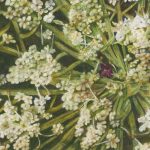 After several more hours of work I have completed the painting and created the card. Please check out the card in the link below. I also made a canvas reproduction in a 12 x 18 in size which really looks great on the wall. Send me a note if you might be interested in one for yourself.