Traditional Watercolor Framing
I have always taken great care to protect my watercolor paintings using an acid-free backer board, acid-free mat set in a frame with either glass or plexiglass. This is the traditional method of protecting the water soluble pigments and dyes from humidity. I love the look of a beautifully mounted painting and there is so many possibilities for framing them that is method perfect. I would never have thought to do it any other way, but I had an idea that sent me into the world of waxed watercolors opening up new possibilities worthy of consideration.
What are Wax Sealed Watercolors
I had this idea that I would like to paint on a wooden block that could be set on a shelf or mantel. I looked up how to watercolor on wood, which led me to watercolor ground (coating that you can paint on). I tried watercolor ground on a small wooden coin, but what do you do to preserve it? So further research and I found there is a fixing spray (varnish) that works well, but that led to me wax. So for a small investment I purchased some Dorland's wax and applied to my tiny painted coins.
I was hooked. The wax filled in the rough surface and it enhanced the color of the paint. It was like wetting a stone to see the depth of the color but it never dries out. If I left the surface waxed it has a soft hazy look, but when buffed it has a soft sheen. The more you buff, the more sheen it had. Not only that, it has a soft leathery feel that is just so nice to touch.
That was with watercolor ground, but frankly watercolor ground is not the easiest surface to paint on. I really preferred to work on paper, but that posed another set of issues, how to attach paper to wood. One of the issues was acid, because wood is acidic. One of the reasons watercolor paper is not made out of wood fibers. With more research I found I could adhere paper to wood with a special gel and a barrier is formed, Voila, archival mounting. Yay!
So longest story shortened a little, I finally found YouTube videos that provided a path to frameless mounting and preserving of watercolors. I now mount my paper using a special gel to a cradled board (a frame under a board) spray the painting with a varnish with UV protectant, then wax and buff with at least two coats of Dorland's wax. The product is stunning, sophisticated, and contemporary just like an acrylic or oil on canvas or board and you can touch it.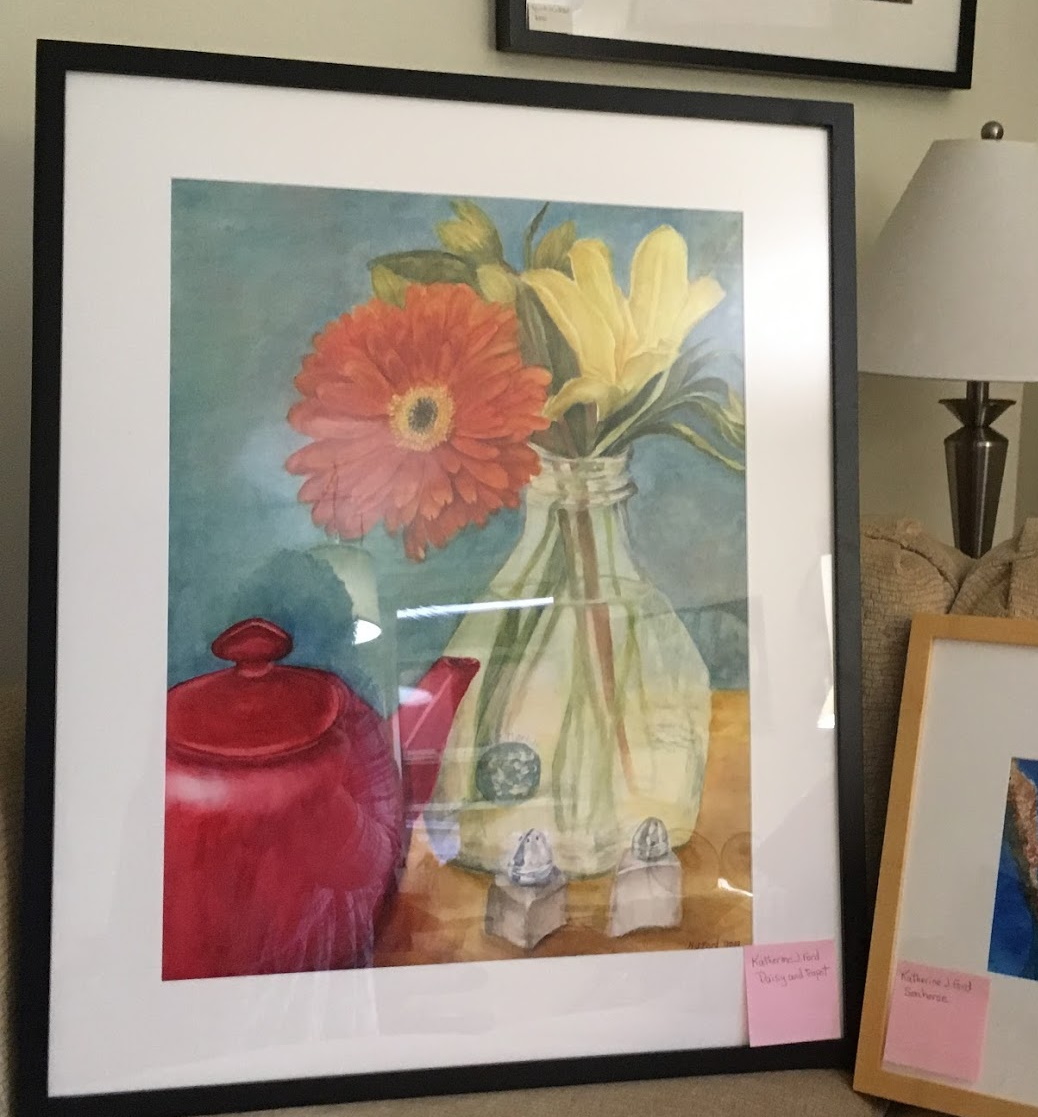 Three Reasons to Buy Wax Sealed Watercolor Paintings
I love watercolor paintings in all sizes, shapes and configurations. The traditional method of framing is beautiful and can be adapted to anyone's style, so why would I suggest to you consider wax sealed watercolor paintings.
No glass. Is that so important? Glass glares and when light hits it preventing you from seeing the beauty of the painting. Look at the framed painting above and see how much light bounces on the glass, distorting your ability to appreciate its beauty.
Contemporary. The artwork is on display, not the frame. The simple appearance of a cradled painting will look wonderful in any style home.
Up Close an Personal. You can touch the painting. You can get your nose right up close and see all the details of each brush stroke and feel the soft leathery surface. It adds another sensory element to the enjoyment of your artwork.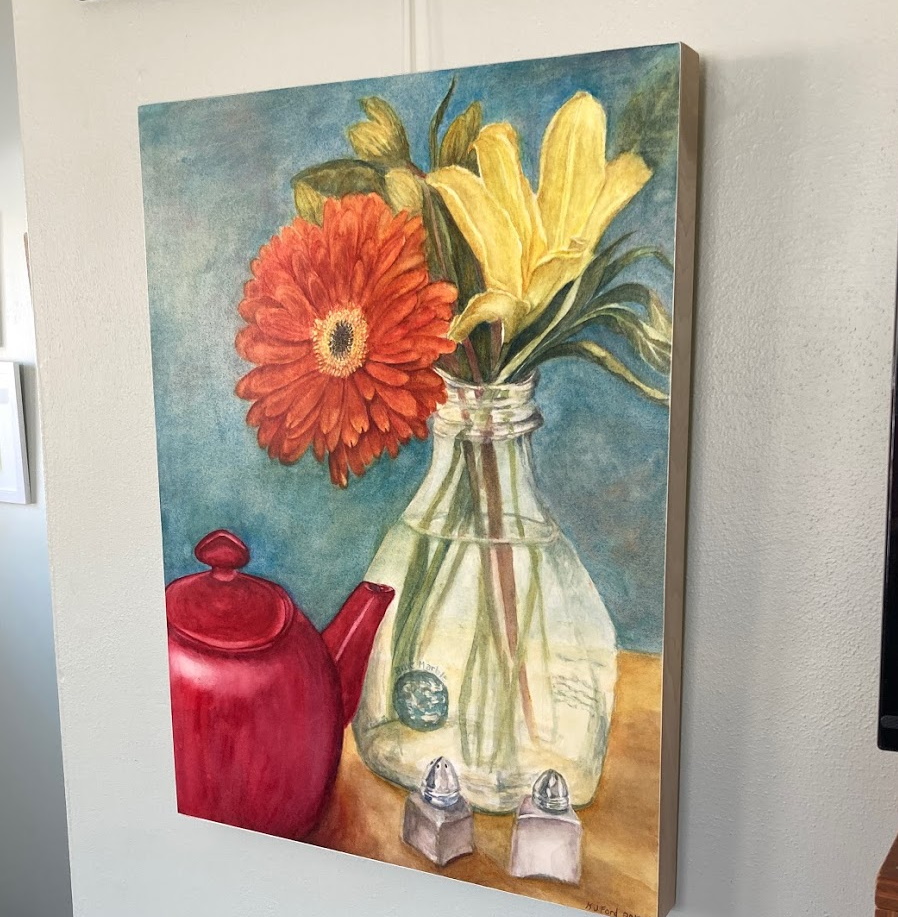 Transitioning to Wax Sealed Watercolor Paintings
I love the freedom the wax sealed watercolor painting provides. I no longer have to be concerned with showing heavy framed paintings at art shows with the risk of glass breakage. I can ship paintings without fear of frame damage and I know that adding the up close and personal element will delight not only the visual senses but tactile ones as well. I will be transitioning most of my smaller works to waxed preservation, but I will be posting the finished painting in an email to my subscribers first for at least a week to provide them the possibility of purchasing an unwaxed original for traditional framing. If you would like to receive this notification, please subscribe on the home page.