"Remembering the lovely things, we have forgotten is one of the reasons for all art."

Madelein L'Engle
Preserve Memories with Object Portraits
Remember when you were a child and the first, bright, yellow dandelion appeared on the lawn? Your first instinct was to pick it, place the soft petals against your skin, feel the milky ooze from the stem, and run into the house to show your mother. Christine had three boys that brought her dandelions every spring, so she commissioned a small object portrait to preserve that memory forever.
Are you in a time of transition?
Are you downsizing and finding it difficult to let go of objects?
Do you have a special someone that is at a milestone birthday, graduating, getting married, having health issue or end of life?
Preserving memories with object portraits at this time will help you to move through these transitions smoothly. Object Portraits are watercolor paintings that include ordinary objects associated with your loved one that trigger a special memory. I can guide you through the process of creating an Object Portrait, sign up for my email and I will provide a guide to help start the process.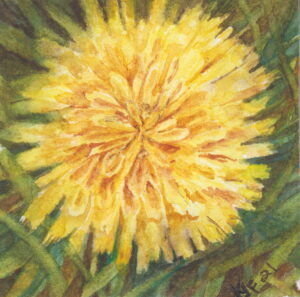 How to Preserve Memories with Object Portraits in 5 Easy Steps
Sign up below to receive your guide.
Creative Workbench Object Portrait Project
Object Portraits are like the staging in a movie. Each object has been selected to represent a time, place, person and a mood. As the film scans the scene, you can see when and where the movie is taking place and you begin to imagine what type of characters will be introduced. As they say, "The stage is set".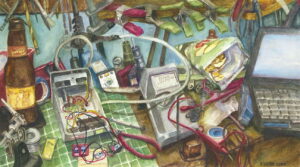 One morning I received a message from my son with a photo of his workbench. He intended it as a humorous example of how he maintains his work are, he succeeded. As you can see in the final object portrait, it looked like chaos, but it told his story very well. He always has multiple ideas and projects going on at the same time. The refreshments help slow down the intensity of his thoughts.
Due to the complexity of the photo, it took many hours to interpret the image into a final painting. As I painted, I came to know my son even more. I know viewers will also come to appreciate his Creative Workbench.
When I completed my first Creative Workbench, I decided it might make an interesting series of watercolors, and that is how I began my Creative Workbench project. I worked on the project for three years and have an exhibit scheduled for the Creative Workbenches in a solo show (details on the Events page). If you are interested in purchasing an original Creative Workbench, they are located in the Art Shop listed under Object Portraits and reproductions are available upon request.
Musky Fly Project
I fell in love with musky flies during a guided fly-fishing trip. Each fly was a perfect sculpture of hook, feathers, tinsel and beads. I try to capture their appearance as they float in water. Preserving memories with Object Portraits of your favorite flies would be a great way to capture your fishing experience.