Katherine, Watercolorist Practicing Watercolor Painting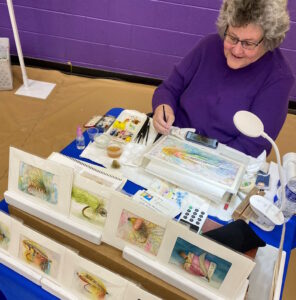 I am Katherine J Ford a watercolorist practicing watercolor painting for the last 15 years. I used to fund my creativity as a Quality Assurance Manager in the food industry. My career choice made me very sensitive to details which can be difficult when using a media like watercolor because it doesn't always conform to specifications.
For the last 20 years, I created Christmas cards for my husband's small home repair customers. Over time, many people suggested that I sell my cards and I began to think that might be a good idea.
Cards were a wonderful outlet for my artwork, but I also wanted to offer original paintings, so in 2018 I ventured into the art market showing my originals in outdoor art shows and later exhibitions. I have improved my artistic skills over the years, but I still feel I am practicing watercolor painting.
I am never quite sure what my next subject will be, but I try to be in touch with my muse, the Holy spirit. I love to paint natural subjects, but I am also intrigued by man- made objects especially when they show signs of aging. I like to paint objects that tell a story about the owner and I call them object portraits.
I believe that each painting is first created by the artist, but the Beholder uses their own creativity to interpret it through their past experience. Each painting has a destiny, and eventually it will find its way into the home of a very special person who will know the wonder and joy it was destined to give.
Papa Dave as he is known by our Grandchildren is the engineer on the staff. He is the one that cuts the paper, squares up the page, frames the pictures, organizes the storage space, carries the materials, cooks the meals and keeps the house going to allow me the time and space to do my creations. He is my biggest fan and strongest supporter and the one who prays for our family guidance. Without him I would still be doodling at work.