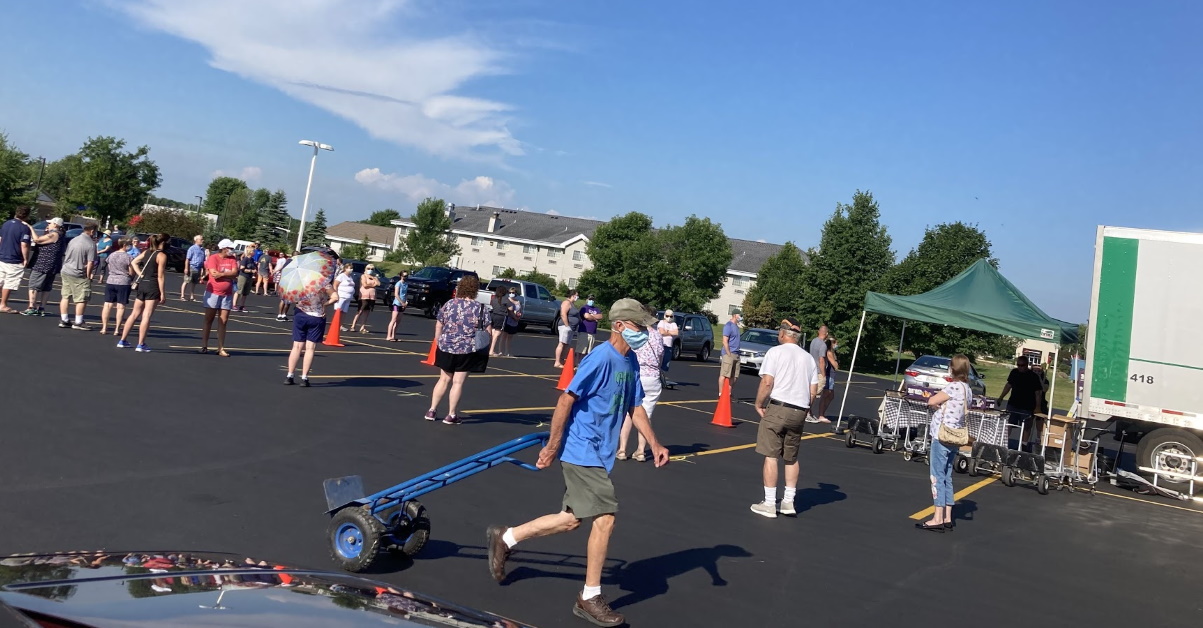 Phase 1: Expecting the Delivery
I was a first timer at this. My mom had anticipated the arrival annually, but was unable to participate this year due to quarantine at her assisted living home. My husband, Dave, was also an old hand at this and knew just where to go and what to do. I on the other hand was reluctant to venture out, but felt fairly safe sitting back in the car waiting for the arrival.
As we entered the the Farm and Fleet parking lot, there were a lot of cars and trucks scattered throughout the lot, no one knew where to park. Dave had a pretty good idea so we moved close to the west side of the lot, and waited in anticipation.
Arrived on Time
At precisely 8:30 am on 4 July 2020, the "Tree-Ripened" fruit truck hauling fresh Georgia peaches directly from the grower to Wisconsin, arrived in the Farm and Fleet lot. Within 10 minutes they had set up a tent, tables, marked off the social-distance markings, and had cases of peaches on the tables ready for purchase at $40/case. People lined up with masks on and patiently waited their turn. The card reader was super fast and there was no case limit.
Dave paid for three cases, placed them on a cart, put them in the car and we were off and home within 30 minutes of arrival. Wow, that was impressive.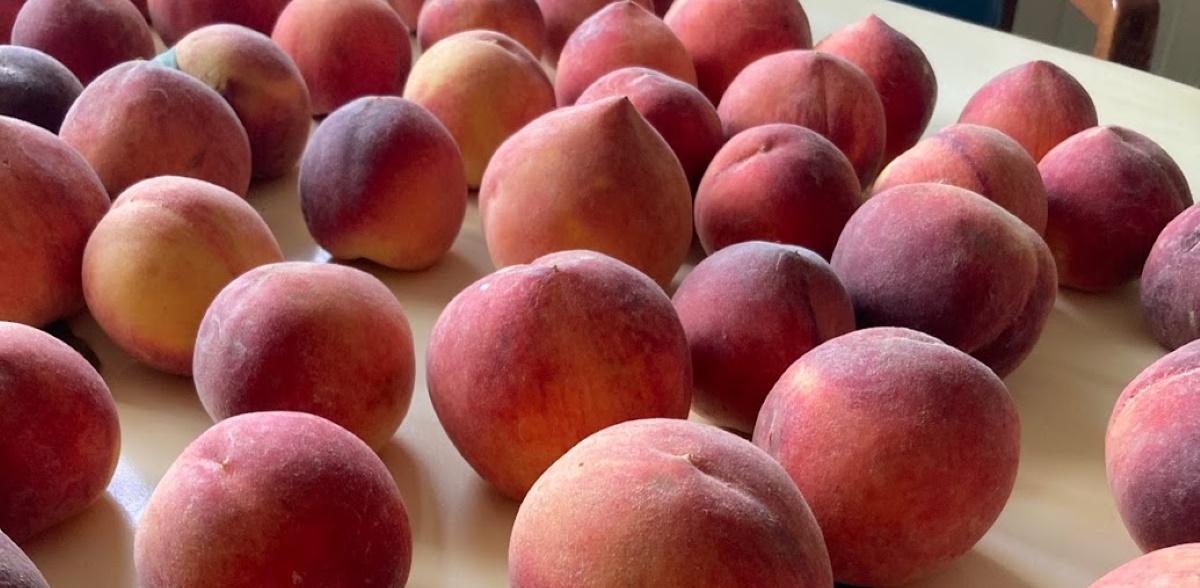 Phase 2: Expecting Fabulous Fruit
Although the company calls itself "Tree-ripened Fruit", the peaches are not quite ready on the day of receipt. They are picked close to being ripe, then placed in a refrigerated truck to stop the ripening. To get them to ripe state you lay them out individually for a couple of days until softened.
It is Hard to Wait;
Perfect peaches would have been better than apples as Eve's temptation.
Memory of biting into a sweet juicy peach starts the mouth to salivate
Nothing matches to smell or taste of a freshly baked peach pie
Two Days Later
The time has arrived to test the peaches. A small one is chosen that is slightly soft to the touch. Rather than eat through the velvety soft skin, hot water is prepare to dip the peach in preparation for peeling. The peeled fruit is then cut into wedges and placed in a bowl for sampling.
Phase 3: Expectations Fulfilled
The arrival of the fruit truck had been on the calendar for over a month. On the day the truck was to arrive, expectancy filled the air. Foreknowledge provided certainty that the event would take place, but even so, there is always a small amount of doubt that something would spoil the day.
We did not expect to get three cases, but were ecstatic when there was no limit and we could share the glory. When we returned home we handed out cases to others so that we did not hoard this wondrous gift.
Two days later, ripened fruit was placed in a bowl waiting for the final verdict. Was the wait over? Was this the full realization of the perfect peach? As I bit into this amazing peach, It smelled, tasted and dripped exactly like I had expected. I thanked God for such a glorious gift he created in a perfectly ripened peach.
Live Expectantly to Unleash Childlike Wonder
Please share your experiences with Expectancy below. If you want to join my on my journey to unleash childlike wonder click here.