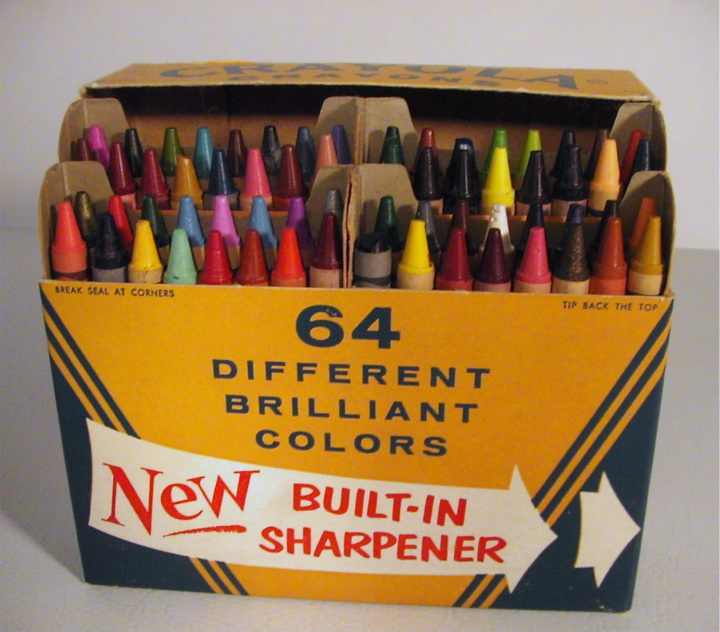 Crayon Lust Curves Creativity should have been the headlines when Crayola introduced the 64 count crayon box with sharpener in 1958. Imagine the thoughts I had as a five year child seeing such a wondrous sight. More colors than anyone could dream of and the possibility of always having a crayon with a sharp point. I imagined how easy it would have been to stay in the lines if I didn't have to deal with a rounded crayon. I imagined the artistry my pictures would have; thinner stick figures, architectural features of my square houses would become distinct with better detail. Oh how wonderful that flip top box lid was, so easy to fold back over the crayons rather than trying to tuck the flap of the box back in and never quite sealing tight so all the crayons fell out.
Lust is a big word regarding a five year old. How did so much desire grow in such a small child. I don't remember where the advertising came from that would have enticed me to desire these crayons so much. I expect it was more word of mouth or even more probable, the rich kid in the class room came to school with a box and the first forms of jealousy formed.
I know I asked for a box of these crayons each year when school supplies were being purchased. I never did get one, that was probably due to good parental money usage and the reality that one really didn't need that many crayons. In fact I am pretty convinced that if I had that many crayons it would have actually diminished my creativity. How would one choose the right red when one had eight instead of two. I probably would have been constantly sharpening the crayons, just to see how perfect I could get the point rather than putting color on a page.
I do know that crayola had the best crayons. To this day I remember the luxury of feeling the paper on a new crayon. It had a texture that prevents them from slipping in your fingers, yet was soft and velvety at the same time. The saturation of the pigment was perfect and satisfying when you laid it on paper unlike cheaper waxier crayons that some people try to substitute to little children destroying their creative joy. The cheap versions left more wax and the more you tried to achieve a strong color the more wax built up and left one very dissatisfied with the end result.
The 64 count crayola box was the start of my art supply lust. To this day I continue to want more watercolor paints in different colors, knowing that only a few are required when you mix your own colors. I always want more brushes, but I only use a few favorite ones a regular basis. I have to learn that lust for creative tools does not help my creativity, just like jealousy and lust prevent me from loving and appreciating all that I am blessed with now. Creativity comes from my imagination, not from tools. The more content I am with my circumstances the more freedom I will have to create. That applies in all areas of my life.